Real Pets Awards

Win an Award for Your Site!
(If you have a slow internet connection please be patient for awards to upload-Thanks)
Our web site is knows for it's colofull and nice looking awards
All decent Site's welcome to apply
Apply now!!
Real Pets chooses the best (pet) site(s) owned by our visitors.
Purpose of our award: To recognize the hard work and creative ability of web master
The owner receives a web award to be posted on their site(s).
If your browser doesn't handle forms, please send your submission via
realpets02@yahoo.com
tHE nEW aWARD
aWARD-CC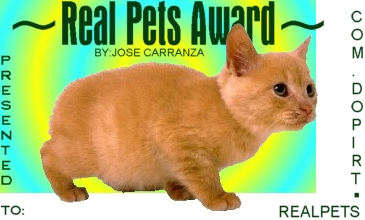 Awards For pet site's
a

b

c

e

d

This award if for pet owners that love their pet and have a website about their pet.

These awards are for Pet web site/Pet related site. Site about animal loves that show how much they love animals/their pets. Site must have pictures, be original etc..
Great Fan Site Award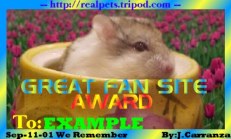 This award is for web sites who show their passion for a singer, show, actor, musician, artist, sports team, athlete or any person or thing through a well original designed web site.
A Better World Award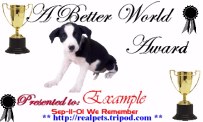 This award is for web sites that promote awareness, concerning social issues, justice, poverty, environmental concerns, religious tolerance, censorship etc..
(site's that make our world a better place)
Art Award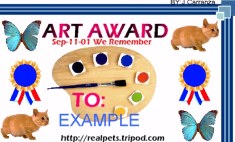 This award is for sites that showcase art. Paintings, sculpture, drawings or original music. Can be a showcase for other artists or your own work.
Bookmark Award Of Excellence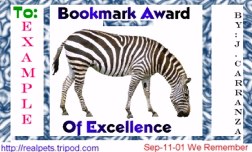 For sites that we like so much that we actually bookmark
them. Most of the time we come across these sites when we surf the net and it is generally given unsolicited.
You may apply for this one too.
Award for all other sites

These awards are for other web site that don't apply to the awards from the top. Like you know, you know what it takes to win an award original material, pictures, if your site has music make sure it has a stop button etc...


Awards Created by: J.Carranza
Please note: We will NOT accept any site that contain racist, pornography material, violence, animal or human abuse, illegal content, vulgarity or profanity or that link to any site that does. Sites which include will be excluded or might be reported to proper authority.

© 2003 Real Pets
This award pg. is listested on